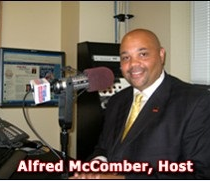 Hello and welcome to the long time Code Red! radio show now available on the PodBean platform. Over the coming weeks, you will be able to listen to episodes of our show hosted by Alfred McComber, a 28-year retired veteran of law enforcement, high level dignitary protection and emergency preparedness operations.
     Code Red! is specifically dedicated to personal security, safety and emergency preparedness issues across America and around the world. The show has previously been broadcast daily on Fox News Radio's old local radio affiliate station in Washington, DC as well as being heard on Federal News Radio in the nation's capital.
     Since 2004, Code Red! has featured a wide array of top government officials from Congress, Federal, State and Local government agencies, as well as high level, well-known private sector corporate and non-profit executives, professionals and knowledgeable authors from many segments of Homeland Security, Law Enforcement, Fire, Rescue & Emergency Medical Services, etc.
     Government agencies that have been featured on the Code Red! radio show include--The White House, FEMA, U.S. Department Of State, U.S. Customs And Border Protection, U.S. Coast Guard, U.S. Postal Inspection Service, U.S Department of Education, Office of U.S. Surgeon General, DC Metropolitan Police Department, DC Fire & EMS Department and the Montgomery County, MD Police & Fire Departments to name just a few.
     Potential featured guests inquiries and/or show topic ideas may be emailed to Rene Nelson, Senior Executive Producer of the Code Red! radio show at: rene@CodeRedRadioShow.com or call our studios directly on (703) 574-5990.
Be Vigilant, Be Prepared, Be Safe!